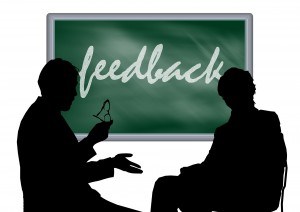 360 degree feedback, are you using it already or look forward to introduce it?
You will agree that if implemented correctly, it can be a very effective tool for performance appraisal.
Gone wrong, it can leave the complete exercise in a real mess.
Let me explain this:
If you are used to traditional appraisals, where the superiors appraise the subordinates, it may take a while getting used to a 360 degree appraisal.
Also referred to as multi-source feedback, multi-rater evaluation, multi-level feedback or even multi-source assessment it is a much more comprehensive way of getting feedback.
Hence, it is all the more effective.
But one has to be warned beforehand about the hazards of doing it incorrectly.
Done it a hurry, without proper planning, it can be a complete disaster that takes you many years to recover from the chaos, conflict, mistrust and depleted morale it can cause.
The objective of this article is to ensure that you successfully implement it for your organizations.
________________________________________________________________________________
Let's see how to make it a complete success:
In 360 degree feedback, you receive feedback from everyone that is 360 degree around you that knows you well.
Be it yourself, your superior, your colleagues, your subordinates, as well as internal / external clients, they will rate you on competencies and other critical factors required for doing your job successfully.
Truly 360 degrees!
Thus your strengths, weaknesses are recognized and any performance gaps are identified.
This is the end result which can help HR team with some deep insights on employee performance, identified gaps and can help them appraise the employee and also chalk out a development plan.
But first you need to design this entire program and before that let's ask a few quick questions.
What is your objective of using 360 degree feedback?
Is it for your performance appraisals?

Is it to know more about your employees' development needs

Is it to identify the performance of your present leaders or to identify future leaders

Is it for your training need assessment
Your objective can hugely influence the way the feedback 360 degrees is designed.
For the purpose of this article, we'll focus primarily on 360 degree feedback for performance appraisal.
Let's move on.
Next, identify who should be involved in the 360 degree feedback.
You need to first decide, which employees do you want to appraise using feedback 360. This could be your top performing executives, your non-performers or any other group that you identify.
Once you know which group to conduct the exercise on, you now need to know whom to collect feedback from.
For this, you need to ask a few more questions:
How many assessors would you be working with to get feedback?

Should these assessors have directly worked with the employee?

Do you want to set a minimum / maximum number of assessors?

How will you select the assessors?

Will the entire exercise be conducted anonymously?

Will the employee select the assessors or will it be a collective decision involving HR team?
The answers to these questions can help you set the course for the next step which is
Identify what performance aspects will be assessed.
This depends on the purpose of your assessment.
Chances are, you are using it just for a broader feedback or for gathering feedback on goal based performance.
A great way here is to break the job description into skills, competencies and other factors that are critical to perform the job successfully.
Now these identified parameters can form the basis on which performance is assessed.
Identify the steps involved in conducting the 360 degree feedback
Let's look at some of the steps involved in actually conducting the process:
Select the questions based on parameters that have to be rated on a scale of 1 to 5. The parameters will depend on the competencies that need to be measured.
You can include various aspects such as team work, leadership qualities, communication skills, analytical skills and much more.
You should also include a couple of open ended questions
In fact employees who go through the 360 degrees feedback process for the first time can be concerned about the use of their data.
Ensuring confidentiality can in itself be very assuring. The feedback results from across the assessors should be combined to protect the identity of an individual assessor.
In fact ensuring confidentiality can also help substantially enhance the accuracy of results.
Conduct an orientation session – communicate the purpose
Since the 360 degree feedback is a highly sensitive activity, you must ideally conduct an orientation session.
An orientation helps set the course. Your employees know what to expect, they get better acquainted with the reasons for implementing 360 degree feedback in the organization.
In short, they now understand their role better.
Deliver the feedback questions
This is where you decide how to deliver the questions to the assessors. It may be using a printed form or you may go with an online format.
It is also necessary to ensure that you keep a track of the progress.
You can simple do an average of the ratings received. You may also go for more sophisticated analysis methods such as Actual Performance vs Expected performance, Individual ratings on various parameters; Strengths vs Weaknesses etc, Performance gap analysis.
Get the results and share with your employees
Once you have the results of the assessment, you may choose to share it with your employees. You may also allow your employee to share it in turn with their respective managers. This should however be voluntary and not a compulsion.
While it is easy to know what is to be done, you will agree that it is really difficult to actually get it done.
It's better to look at some best practices before you go all guns blazing.
Best Practices that make your 360 Degree Feedback Exercise a success
Involve your Functional Supervisors / Head
While you drive the feedback program, your functional heads should also be involved and pay attention to the process.
Reason: If they don't, the other assessors (reportees) won't pay much attention either
So, get your Functional heads to believe in this process and translate this enthusiasm to the team.
Do not include a lot of non-specific or loose questions
Quite a few 360 degree feedback programs are too shallow – just focusing on personality types at times. Unless they translate into more specific competencies and actions, the feedback would not be of much help.
The information that you retrieve from the feedback program has to be as actionable  as possible.
Be ready with a follow-up plan
So you are all done with your Feedback 360 degrees, what next?
In a lot of cases, feedback received is the end of the activity.
Phew!  Consider this – After all, this wasn't an exercise you undertook just for the sake of it.
Having a follow-up action plan helps. After all whatever information you have is only useful if you can act upon it.
Don't disregard the strengths
The 360 degree feedback helps uncover both your strengths and weaknesses. You need to also make sure that while concentrating on weaknesses, the strengths do not go unnoticed.
In general, the first thing most people would lap on to is the weaknesses highlighted in the process and how to get rid of them.
However, this attitude can be very tricky, forgetting the strengths of your key executives can be a major hindrance towards their growth prospects.
Avoid Being Personal and generalizations
The entire exercise can be rendered futile if it becomes too personal leading to a very poor experience. The objective should be to give constructive feedback and not to highlight any personal shortcomings. Especially open ended comments about any person involved tend to be in this category.
Also make sure there is no generalization of personality traits – "You are prone to doing this…", "You are never…"
Get Online to smoothen the process
With a lot of tasks being effectively accomplished online, a 360 degree feedback is no exception. Here is how an online feedback 360 Degrees can help:
Reach:

In case you have employees working across global offices, you can still conduct the process seamlessly over the internet.

Anonymity: By conducting the exercise online, you can maintain complete anonymity of the entire exercise also ensuring that employees do not have any access to the process or data.
Data Analysis: With the best in class resources to analyze the data, you do not have to do any manual interpretation or analysis yourself. The data is collected, stored and analyzed most efficiently with effective online tools.
Here is an example of an online platform to conduct Feedback 360 Degrees. You can access it to understand and try the Feedback 360 process online.
Visit here to enter your name, email and the organization you represent with a few basic details and you are good to go.
Maintain an open discussion forum
There is a high likelihood that even though you've done your best, there is still a lot of room for improvement.
Rather than leave the process open to criticism, you can maintain this forum where the participants in the exercise can ask questions, give answers or share suggestions that help you make incremental changes if at all.
This also helps get the buy-in from the participants and makes them feel open about any feedback they receive.
Increasing importance of Feedback 360 Degrees with changing work cultures
There was a time when Feedback 360 degree has been limited to mostly the top leaders in the organization.
However, with the need to equally develop and build your employees for the future, they are now being used as part of the employee's overall development plan.
In fact most employees want to improve and hence need feedback. This is critical even for supervisors who can now better understand their employees and also help them improve.
This in turn is a win-win for the organization, creating a culture of feedback and continuous improvement, further ensuring that the workforce is much engaged and committed.
So you now know what works as well as some of the best practices to conduct 360 Degrees feedback.
Now let's also look at where you can go wrong.
Incorrect expectations from the process
360 degree feedback is only one aspect of the overall development possible for the employee. Hence if participants begin to expect quite a lot and look forward to speedy implementations of their feedback, it is necessary to re-align them and set the expectations accordingly.
Lack of Connect with organization goals
Often, a 360 degree feedback should always be connected with the overall organizational goal. While giving feedback, identified competencies or job descriptions can be used as a measure.
The actual performance can then be compared with expected competencies required to perform the job successfully.
Lack of sufficient data
While maintaining anonymity, it is also necessary the people who receive the feedback also understand the feedback better.
In short any clarification required or further information needed should be made available and an action plan created.
Inexperienced Raters
Yes despite all measures you take to offer orientation and information about the feedback process, the raters may still get it all wrong.
Personal bias may lead to inflated ratings resulting in a better perception of the employee while deflated ratings can create a completely wrong impression.
In fact, the employees may also group together to artificially enhance results. Sufficient checks must be introduced in the system to prevent any such occurrences.
Excess Information or data
Yes, excees information can be tedious to deal with. While traditional approach to feedback involves just the 2 people involved, 360 degrees feedback involves many more entities and hence that much more data.
Organizing this information efficiently so as to avoid any overload of meaningless data is a necessary step as well.
While the objective of this post is to acquaint you with the variables involved in the feedback 360 degree process and also understand your organization's readiness to accept this practice, you will actually get to learn the ropes when you execute it yourself.
Given the numerous benefits of conducting a feedback 360 degrees program, you must surely give it a go.
It is however prudent practice to try it once, in a risk free environment.
How do you get to try a feedback 360 degrees? That too risk free?
It is possible, on an online platform where you can perform a trial run of the process to see how it works.
If you are keen to introduce it for your organization, you may perform a trial run here
You may also like to share your thoughts or experiences of conducting a feedback 360 degrees exercise. Feel free to share with us in the comments.