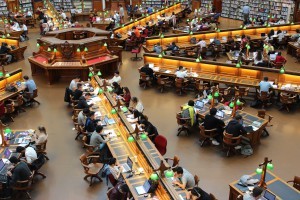 Consider this: Its the Day 1 for your organisation on campus!
You are required to manage a frantic, intense hunt for the best candidate. Easily Manageable? Barely so…
You have your schedule chalked out: You begin with your pre-placement talk, an assessment, interviews followed by job offers.
A process that requires immaculate planning and super sharp decision making skills.
What if you lose out on the best candidate due to a lapse in your evaluation?
This is how traditional campus hiring happens for most organisations, yours may not be an exception.
One of the most effective ways to hire fresh talent, thousands of organisations in India today hire more than 1 lakh graduates on campus every year in India.
Most campus hiring activities today are random and mismanaged to a large extent. This is particularly so as there is a large pool of candidates to evaluate and you have to make sure you do not lose out the best candidate to your competitors.
The top candidates on campuses are much in demand these days and with online tools like LinkedIn as well as other social media platforms, professionals can now easily share their resumes and overall experience.
The present day graduate has a different set of requirements and plans as compared to the earlier generation. It is time for your organisation to be up to the task.
Here are a few strategies that you shouldn't miss out on if you are serious about recruiting talent on campus:
1. Keep abreast with the latest technology
There's a significant difference in the way freshers today scout for jobs. They don't look for job advertisements in a local newspaper or magazine. To communicate your job offer with them, the best way is to connect with them at their level through a medium they understand – technology, online and social media platforms.
The huge change is at a level where college students are gathering data and most career related options are readily available on social media and smart phones. The fresh talent is always up to date with latest technological changes, their profiles are available on professional social networking platforms and you need to invest in the right online tools to ensure that you are found and your organisation is effectively branding itself to the young brigade.
2. Be Innovative to get talent that innovates
For the brightest university talent, leaving their exciting campus lives and trying to adjust in a structured organisation can be too much to handle. Students today seek jobs that help them leverage their strengths which means that you can no longer rely on traditional ways of finding quality candidates. Most standard job application processes overlook some of the key indicators that identify potentially high performing candidates.
One way for you to go beyond most traditional techniques and highlight innovative practices by your organisation would be to demonstrate your brand's innovative nature by maintaining a strong social media presence and engaging prospective candidates on their favorite online social platforms. Your social media marketing strategy would also be about branding yourself as a sought out employer of choice, a great place to work where there are immense opportunities to learn and grow.
3. Interact with freshers on campus and connect with your interns
You need to make your presence felt at various college campuses and explore better ways of involving campus groups from the topmost universities. You must have a plan for developing interns and giving them better options to start their internship process in your organisation. Connecting and engaging well with your interns can be a great step forward as they would ultimately act as great ambassadors for your organisation.
4. Boring job descriptions? Spice it up! 
Many a times, a poor description of what a prospective candidate can expect from the job can set wrong expectations in turn, leading to a higher attrition rate in course of time. During campus recruitment, most candidates have the liberty of choosing from across multiple job opportunities from companies across industries.
With a well designed job description that is to the point and interesting enough for prospective candidates, you can definitely hold the edge when it comes to them making a choice.
5. Your pre-placement talk is the first impression
While attracting the right talent, you must make sure that you have a pre placement talk in place that attracts the right talent. It is after all the first impression they will have about your company. You must make sure that the role of the person joining your organisation is one that makes him/her feel important. Here is what your pre-placement talk should cover:
About your organisation – what makes it different?
The opportunity and overall market trends
The type of projects your organisation works on
Your work culture
How they these freshers fit in the role you have defined for them.
How can they make an impact in this role and hence be known as performers
6. Filter candidates using assessments
During a campus hiring drive, it is necessary to filter candidates considering the large number of students that appear for the process.
Most college graduates hardly have any work experience ane hence it is difficult to filter these candidates just on the basis of their resumes. The probability that you may miss out on a high potential candidate if you are just screening their resumes is considerably high due to the number of freshers applying to your organisation.
Preliminary tests are hence a better way to assess candidates and also filter the best available talent from the overall pool of candidates. This will ensure that those candidates who do not possess the necessary core skill sets that you require are not eligible for the next round of selection. While you may want to cover multiple assessment areas such as aptitude test, logical reasoning, verbal ability, personality, it is a fact that very focused tests work best.
You can thus identify the most critical skills and competencies for your hiring needs and conduct a relevant assessment. Here is an option for you to try online skill assessments from either personality tests, functional tests, aptitude tests, verbal ability and logical reasoning tests to identify if the candidate has basic skills you may require in them. You can experience the above mentioned tests and more such assessments right now-
Click Here to experience this online assessment platform 
7. Use scientific, automated solutions to pep up your campus recruitment drive 
While on campus, the time you spend is of utmost importance as one wrong move taken at the wrong time can cost you a valuable candidate lost to your competitor.
If you resort mostly to pen and paper tests, there is a lot of manual intervention required and an even higher possibility of errors in the selection process. With an automated assessment solution  you can now evaluate even more effectively and draw quick inferences from the personalised reports which highlight if you must take the next steps with the candidate.
8. Final decisions with one to one Interviews 
During a campus drive, while you take continuous interviews, you may be prone to some element of prejudice, bias and errors that can cause you to lose out on potentially good candidates. Some ways in which you could deal with these situations are : Conduct more than 1 interview for each candidate and ensure that you do not reject someone who could end up being a potential performer for your organisation. Make sure that you do not repeat most interview questions as they tend to be discussed by candidates.
Conventional methods of campus recruitment don't work any more as they work more as a rejection process without any scientific approach that ensures hiring of the right candidate.
Most campus recruitment processes take an entire day of activities and the direct as well as indirect costs associated can be unreasonably high. Many a times you may fail to take into account your time involved, the travelling, accommodation and the entire logistics for conducting the complete procedure. However this has to be matched against how many students does the company end up hiring.
How an Online Assessment Solution can be a Game Changer 
With an online assessment platform in place, most campus recruiters can now save on a lot of time, money and resources. This ensures that the entire initial activity of filtering is now conducted in a systematic, scientific way ensuring that the candidates with the right set of skills and competencies fit to join your organisation are selected for the final round of interviews.
This is a break away from convention as it delivers incredibly accurate results while taking a fraction of the time taken for the manual assessment process. It also cuts down on the number of people required to moderate the exercise thus considerably increasing the return on investment of the entire activity.
Advantages to the recruiter are multi pronged – 
a. With an online skill assessment platform, you can now decide what competencies you may want to assess and what is the nature of the test to be administered.
b. You may get access to instantaneous reports that give you the overall analysis of the candidate and their suitability for the job and for your organisation in a snapshot.
c. With the speed of administering these assessments online, you can now reach out to more campuses as there is no more the constraint of time, people required and other resources to conduct the campus drive.
d. You can choose from multiple questions formats such as video, audio, flash, simulators and other components that make your tests more interesting and challenging for candidates.
e. There is no lag in the entire cycle from conducting the assessment to the evaluation which is completed almost as soon as the candidate completes the assessment with 100 percent accuracy and hence it enables you as a recruiter to make informed decisions.
f. You can now conduct campus drives at the remotest of locations. With the help of technology such as web and image proctoring along with security parameters there is no longer any need for manual intervention in the invigilation process.
g.  With the option to avail a huge question bank with varying levels of difficulty, you can now also design customised assessment for each role and a level in your organisation with the ability to serve random questions to thousands of concurrent users, while they are still being evaluated for the same set of skills and competence.
h. You can get detailed analytics and insights on your assessment activity that helps you identify the key trends in your hiring patterns on campus to help you consistently improve upon your recruitment processes.
Identifying the right talent for your organisation through the campus recruitment activity thus requires you to now embrace innovation, technology and a scientific approach that takes you away from typically conventional hiring techniques.
If there are any more such practices that you adopt while conducting the campus recruitment drive for your organisation, please feel free to share with us in our comments.