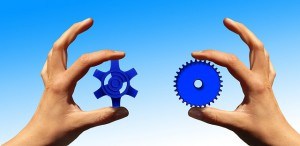 As we settle down after a couple of weeks of the new year, let us look at some of the latest HR trends in 2016.
And yes, technology is the buzzword this time (as it was even a year ago).
We have seen some major advancements in the use of technology, mobile applications as well as social networking for various HR practices. Here are a few instances
Digitization is one of the latest HR trends all set to disrupt this year, what with the use of predictive analytics, data-driven decision making and cloud based learning being key trends that buck the norm.
Here are some technology trends that will further catch up in HR in the year 2016
Increasing use of mobile tools for Performance Management
Organizations are increasingly looking for ways to make performance management more agile and quick, allowing for more feedback and also allowing to flexibly change goals.
User Friendly Online Platform Employee Feedback 
Traditional ways of conducting engagement surveys are fast becoming extinct. Even for organizations that still continue it are not able to derive value from the exercise.
Enter – Online survey tools to capture employee feedback that can be used for identifying high potential executives and also during performance appraisals.
If you haven't tried one yet, you can check this online platform for a free trial experience a 360 degree feedback tool.
Predictive Analytics to the Rescue
HR analytics is another among some of the latest HR trends that is catching up quite a bit with a lot of vendors introducing software to analyze internal and external data that helps managers to make informed decisions on hiring, appraisals and a lot more.
Cloud Based Learning
According to the LMS Trends Survey by the Brandon Hall Group, out of all deployed LMS, 54%  are in the Cloud.
Reason? Most Cloud LMSs are budget-friendly as well as offer tremendous ease of maintenance ensuring that users are most satisfied.
Some additional advantages are reduced cost, especially for small and medium organizations that lack the infrastructure and expertise to operate their on-premise Learning Management system. And of course, the reach is tremendous with minimum set-up time and is much scalable.
Increased Transparency with the use of technology
This may not be to everyone's liking though increased transparency can help employees describe the employment brand of the companies they represent.
With the use of Social media, Glassdoor and other options to evaluate organizations, employees who are disillusioned with their companies can give feedback and also express their displeasure.
In fact, other potential employees can also know what is being written about any particular company, what is the popular perception among existing employees. This can be true even in the case of positive feedback shared.
Transparency created with the use of technology is conducive to an open culture allowing easy recognition and communication of all happenings in organizations.
Social Media in HR
Social media has hugely influenced the HR industry to a large extent.
Presently, its a tool being increasingly used not just for acquiring the right talent, but also for learning & development as well as for employee engagement.
A trend that gradually began in 2013, gathered quite a lot of steam in 2015 and is all set to disrupt in the year 2016.
These are some of the latest HR trends that are all set to move to an altogether new level this year.
Are there any that you know of? Share with us in the comments.