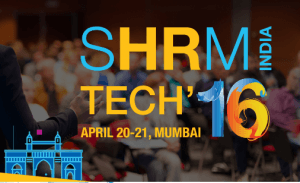 The Society of Human Resource Management (SHRM), recently concluded the SHRM India Tech'16, an event that could be described as one of the biggest convergence of people, business and technology in the country.
Touted as one of the fastest growing HR event in Asia, the conference witnessed the presence of over 100+ senior Business and HR leaders from across 200+ participant organizations. 
Just like every year, Team Assesshub participated this year as well as an associate partner of SHRM India Tech 16' and as always, came back truly enriched with the riveting experience.
Our Experience at India's biggest HR Tech conference
There was much to learn by connecting, discussing and dissecting evolving HR trends, key people issues and challenges with some of the best global thought leaders and industry stalwarts attending the event.
Showcasing some exceptional, disruptive and innovative HR tech trends through 15+ enlightening knowledge sessions, the conference was able to shed light on the evolution of the Indian tech landscape in the human capital space.
From social tools for hiring the best talent to the use of workforce analytics for better business decision making, technology has opened new doorways for the HR profession.
SHRM Tech '16 was just the right platform to gain insights and knowledge about the right tech tools to bring the best of technology to various human resource practices.
Here are some key takeaways from more than 15 enlightening knowledge sessions by the best of industry experts:
The session commenced with a keynote address by popular thought leader Jason Averbook discussing about the pace of technology changes taking place and its impact on human resources.
Aptly titled HR Innovation in the age of technology, Jason suggested that People, Process and Technology must work together. Even your people need to accept technology and reinvent processes, failing which it is a huge wastage of money and resources.
Our takeaway: The rapid rate of technology changes calls for even more agile people and processes.
There was another engrossing panel discussion about HR Tech and making it about the user experience. In fact workplace technologies are not the onus of HR anymore; it is the employees who are the end users and decision makers about which technologies should be used.
The speakers for this discussion were Kevin Freitas (Director, Global Recruiting and Rewards – InMobi), George Oommen (Dir HR, Tech. & Process Consulting – Cognizant) and Madhura Dasgupta Sinha (Head, Employee Experience – IDFC Bank) discussed about how the employee is now a complex and demanding customer.
Employees today, need to be motivated with the proper set of technologies and communication including social, mobile and video to create a consistent network.
Our takeaway: Managing millennial workforces can be made easier with user led technologies.
In yet another engaging session titled  MasterClass: Recruitment Redefined, Kevin Freitas (Director, Global Recruiting and Rewards – InMobi), described how tech is driving hiring & what does the future holds as far as use of technology in recruitment is concerned.
Our takeaway: Key insights on how to hire for the future with the knowledge of highly scalable technologies that drive user experience.
One of the most absorbing sessions was Re-engineering Tech Recruitments, a panel discussion by Gaurav Gupta (Director HR – Rolta India), Madhav Vamsi M, (Campus Head – Flipkart.com) and Chanakya Sehgal, Sr. Director and Head, TA, – EdgeVerve Systems.
Talent acquisition needs to be re-engineered as most past practices are now redundant. One has to look beyond the obvious and also consider unconventional hiring sources. It is now equally important to know the psyche of new recruits and their expectations from the new job.
Our takeaway: Identifying and recruiting tech talent requires a robust, effective screening process much beyond the traditional techniques. Online skill assessments can help reinvent your hiring strategy with a more refined and scientific approach to recruiting the right talent.
At Assesshub, we'd like to help you achieve this innovation in your organization by using our online platform for your hiring,
These and many more such excellent sessions, keynote addresses, panel discussions and expert demos gave tremendous insights on the critical role that technology has to play in shaping future HR practices.
It leaves you with a feeling of wanting more and there will be no doubts that the event would be one of the most eagerly awaited occasion again next year and our best wishes to the SHRM India team to accomplish it yet again.