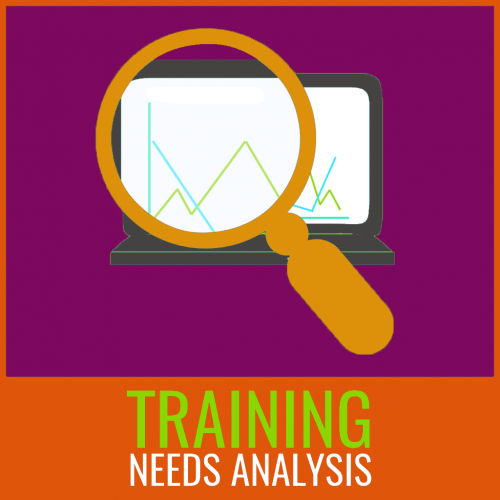 Training need analysis allows you to identify an individual's current competency levels, knowledge or skills in one or more areas.  This is however, only the first step!
This is then compared with the required competency established for their positions or other positions within the organisation.
The difference between the current and required competencies can help you determine training needs.
So when you stop assuming that all employees need training or even the same training, you can now start making informed decisions about the best ways to address competency gaps amongst your individual employees, specific job roles or employee teams.
A successful training needs analysis (TNA) will thus help you to identify any kind of gaps between the present level of job performance & the expected job performance levels.
Now once you get going with this process, the other gaps will also be identified.
Simply speaking, if you try to create a solution before you know the real root of the problem is certainly a waste. It certainly isn't enough if the company leadership would like to know why they have spent so extensively on training for a need that just doesn't exist.
Why you shouldn't miss doing a TNA? 
One of the most common excuses we hear for avoiding a TNA is the lack of time. Even if you work in a fast paced environment, with tight deadlines, the cost of not doing a training need analysis far exceeds the cost of doing it and therefore you must consider it to be a priority in all of your training activities.
By making sure that you spend a bit more time initially to investigate the real causes of a performance gap, you will be able to save more time, money, and resources in the long run.
Now you may also want to consider the implications of a TNA that goes wrong!
If you design training for employees who do not need it or even offer the wrong kind of training, it will prove to be counter-productive. And the cost involved is much more than mere financial loss. Here are some of the impacts that could affect you negatively:
A huge waste of time, money and resources
Other projects that are in desperate need of attention get ignored
Training the wrong competencies and using unsuitable learning methods may impact your employee development
Creating confusion, unrest and resentment amongst your employee team
Reducing the chances of introducing other training programs in future
Being responsible for a loss of confidence in the upper management
Are you aware which online training resources are required by your employees to boost on-the-job performance?
Here, we will take you through each step of the training needs analysis process.
Consider this, Your online training module possibly has all the essentials. It may have interactive training simulations to impart real world experiences with  online tests to gauge employee knowledge with a feedback system to collect important data.
However, does it really address performance issues that impact your employee productivity?
This in depth guide helps you to pinpoint glaring performance gaps in your organisation with a training needs analysis. Here are some of the essential steps:
1. Identify The Overall Learning Objectives
You must clearly define the learning objectives and desired outcomes of your employee team to focus on the appropriate performance behaviours. For instance, it could be to reduce your product return rates. To achieve this, you should concentrate on specific training areas that are related to these particular goals.
If you create online training courses to impart product knowledge to employees for them to pass it on to consumers, this could help you to increase your customer loyalty and at the same time decrease the overall risk of returns. This would require you to meet the necessary stakeholders such as managers, department heads etc to figure out what you need to achieve through your online trainings.
2. Establish The Requisite Skills And Knowledge
The next step for you to take care of is aligning your outcomes with your employee skills and knowledge. This includes a detailed breakdown of the involved tasks, as well as the essential talents employees need to complete these tasks.
For instance, persuasion skills to enhance sales performance or even technical troubleshooting abilities that help improve the overall effectiveness of your service team. You could create a list that features all desired outcomes and link it to performance behaviours.
3. Identify Critical "Pain Points" In Behaviour
When you finally know what your organisation requires, you would ideally want to get to the root of the problem. This includes identifying performance issues that obstruct the overall productivity. Some ways to conduct a training needs analysis to diagnose the problem include:
a. eLearning Assessments to give you a fair indication of what employees know versus what they need to know. They go a long way in identifying performance gaps on an individual level.
b. Observations to monitor employees on the job or during a task-based scenario or simulation. Make a note of their areas for improvement. Then use the data you collect to create a plan of action.
c. Surveys such as polls and focus groups that allows employees to be able to shed more light on the performance issues hiding beneath the surface. For example, ineffective online training courses or company policies that are holding them back.
d. Evaluations, where you take a closer look at quarterly or annual evaluations to look for certain patterns. For example, your sales staff seems to lack the necessary product knowledge to achieve their monthly goals. In such cases, you could follow-up with team leaders for clarifications or suggestions.
4. Set Performance Priorities Based On Your Organisational Goals
Considering you know what the online training resources & hours you need to devote for managing performance, you have to even prioritise the gaps based on organisational goals.
This may even require you to meet your Learning and Development team and rank each of these performance gaps based on what you may have set as customer satisfaction ratings and your organisation profits as well as the other key performance indicators. For instance, hitting your sales targets to stay on track for your quarterly goals.
5. Evaluating your Existing Online Training Resources
When it comes to your online training resources, you should make sure that they are delivered to the right employees who possess the specific skill sets or performance gaps that can be bridged by the corresponding online training activity offered to them.
Evaluating your present online training resources gives you the ability to identify which are the areas for improvement and also allows accordingly to revise your online training materials. You may even discover that mostly while your online training resources are effective, what actually lacks the punch is your deployment strategy.
One such example is of employees who are not able to access online courses they require on their mobile devices. This then does not allow them to get the targeted information they need to bridge gaps on the spot.
6. Creating An Online Training Strategy To Aligns With Your Employee Needs
Finally, the online training strategy you create should centre on your employees' individual goals, needs and performance parameters. Which of these online training resources should you use to impart necessary information and build your practical skills? One effective way to fill these performance gaps is by offering personalised training programs.
Since every employee has their own specific areas for improvement and thus require specialised online training resources. You may even like to consider eLearning course maps, microlearning libraries, and other training contracts to make it an employee-centric approach.
These are some of the steps that can help you identify and bridge the gaps in your training with a systematic process. Are there any more steps or tips that you have that could make training need analysis more easy? Please feel free to share with us in the comments.